Cato was founded in 1854
by John Rogers who built the first store building. At that time Kansas was not yet a state, and the area was known as the Cherokee Neutral Lands. These lands covered 600,000 acres and included what is now Cherokee and Crawford Counties. Cato got it's name from E. J. Boring who established the first Post Office in 1858. Cato was a part of Bourbon County until the creation of Crawford County in 1867. In 1869, George Fowler became postmaster and the Post Office moved to a new location. Cato has the distinction of having the first grist mill in the county, the first coal mining operation, the first school in Crawford County, and the first County Fair.

Woolery Coonrod Sr., Elisha Black, Sr., H.B. Brown, and Ezekiel Brown were among the earliest settlers in Cato. Elisha Black, Jr. was the first baby born in Lincoln Township to this group of settlers, on April 26, 1857. Soon afterward, I.K. Brown and Chad Brown, sons of Ezekiel Brown, also settled in the Cato area.

Other early settlers included John Hale, Sr., Jacob Workman, Benjamin Workman, Levi and Sam James, Crede Burton, James Odom, Ehihu Talcott, Mr. Pearson and his sons Riley and William, Levi Hatch, N. Sawyer, Jonas Elliott, Mr. Franklin and sons William and Jerry, Spencer Reynolds, and Robert and Minerva Fowler.

Shortly before the Civil War, a Swedish immigrant named Peter Smith moved to the Cato area and became a partner in Rogers' store. John Rogers raised a company of the Sixth Kansas Cavalry to fight for the Union. This was a time of much violence along the Kansas - Missouri border. Bushwackers from Missouri made frequent raids into Kansas to attack the free state settlers. John Rogers of Cato was killed by bushwackers while home on furlough. Other Union soldiers from the Cato area who served in the civil war were: William Simpson, Neal Humphreys, James Humphreys, William Franklin, Chad Brown, I. K. Brown, J.H. Coonrod, Sam James, J. J. Odom, Jonas Elliott, William Pearson, James Jones, Aaron Jones, Robert Mack, M. Shakely, Pascal Moss, H.B. Brown and Thomas Emmitt.

In 1866, a treaty was signed which allowed the Cherokee Neutral Lands to be sold for not less than $1 per acre. J.E. Joy of Detroit purchased 640,199 acres for his railroad. The early settlers were awarded 7,291 acres under the Homestead Act of 1862.

In 1867, the first school was built on the Chad Brown farm. It was a log cabin with no windows. The only light that entered was from the doorway. That same year Peter Smith married the widow of John Rogers and they built a new brick structure to house the Rogers' store which became a stop on the overland stage route. This brick store remained until 1994, when it was destryed by fire.

The Cato Mill was built in 1868 by Robbins and Steele. This was the first mill in Kansas south of Fort Scott. It was both a grist mill, for the grinding of grain, and a saw mill. George Fowler and Robert Fowler also owned mill stores.

Andy Linthicum owned the first shoe shop in Cato. The first harness shop was owned by William Telcamp, and the first blacksmith shop was owned by William Shamblin. Mr. Emery Conditt and Miss Wilcox were teachers in the first school, and along with Mr. C. H. Strong, organized the first Sunday school in Crawford County in the Cato School house.

There was a Masonic Lodge organized in Cato around 1872, and the first Church was a Missionary Baptist Church founded in 1871 and having eight members. Mrs. Chad Brown was the first member baptized into the church.

The old stone school was built in Cato in 1869 and served as a schoolhouse and a meeting house until the mid 1950's. The Cato Christian Church, a white frame building, was erected in 1915 and is still standing.

Cato was never a large town. There were twelve residents in 1859. The population reached it's height in 1910 with 112 residents. However by the time the first car drove into town - a 1913 or 1914 Model T Ford - the town was already in decline.

The above information was compiled by Barbara Scott, board member of the Cato Historical Preservation Association, 9/8/2006, and comes from the "Handbook of the Frontier Days of Southeast Kansas" Kansas Centennial 1861-1961 by B. Close Shackleton, and "1905 History of Crawford County Kansas" by F. A. Jewell and from a "History of Crawford County."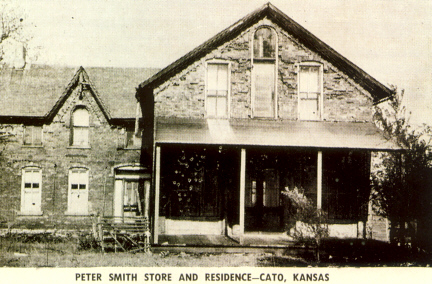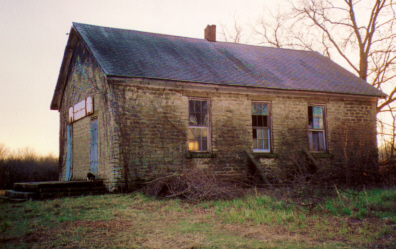 Cato School
---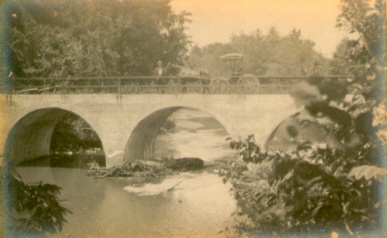 Old Cato Bridge 1920-1988
---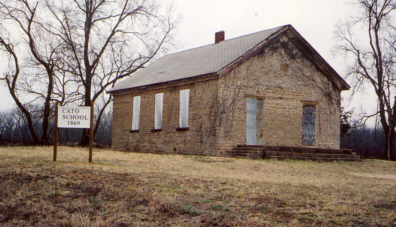 ---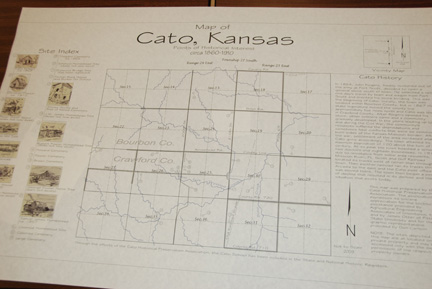 ---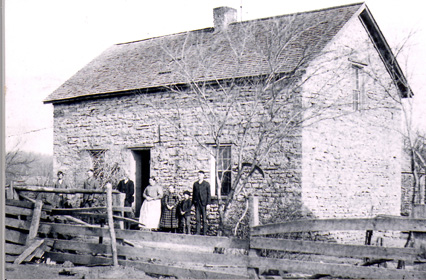 ---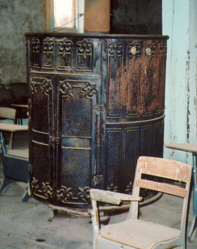 ---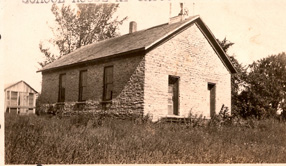 Cato School - 1927 (note the bell tower)

---