&nbsp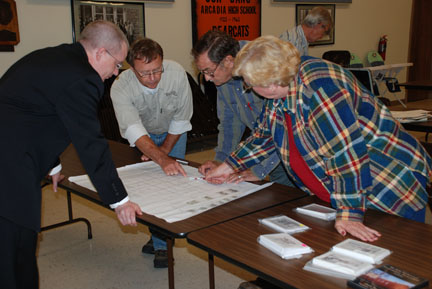 Committee members study a map of the Cato area. Copies of the map are now available.

The Cato School has been placed on the National Register of Historical Places and the Kansas Register of Historic Places! Because of these designations, the school is now eligible to receive grants. The school received a grant, totaling $15,360, from the Heritage Trust Fund, through the Kansas State Historical Society. This grant was instrumental in carrying out the second phase of the restoration project which involved replacing and restoring the windows of the school. During phase one, the roof was replaced through the efforts of volunteers and donations, especially a very generous donation by the Coonrod family. The interior walls and ceiling of the school are currently being restored, with wiring being next on the agenda. The restoration process is a long-term project with many things still being planned. The old stagecoach bridge was chosen for an Eagle Scout project and was repaired with the cooperation and help of the county. Some plans for the future include:
renovating the old stove
installing a handicapped accessible ramp
restoring the church


The Cato Historical Preservation Association would like to thank all the generous friends of Cato who have contributed their time and money to make the restoration projects at the Cato School possible. If you would be interested in joining our group, please contact one of the members, or come to a meeting, the fourth Tuesday of every month, at 6:30 at the Arcadia Community Center.

Exciting Things are Happening at Cato!





The school gets new tuckpointing!

&nbsp
CHPA members:

Susie Stelle
Elizabeth Portwood Thompson
Joe Bournonville
Anna Portwood Swank
Mary Portwood
Richard Coonrod
Ralph Carlson
Jan Steele
Jerry Coonrod
Marilyn Flagg
Katharine Spigarelli
Ronnie Smith
Buck Rowland
James Thompson
Virginia Smith
Kathy Farmer
Nate Garrett
Shirley Hensley
Randy Coonrod
Barbara Hixenbaugh
Carolyn Smith Corral

If you have memories or old photos of the Cato School or the community of Cato, please let us know! You can contact any of the committee members. Thank you!




New windows was just one of the many improvements made at Cato thanks to our hard working members and volunteers